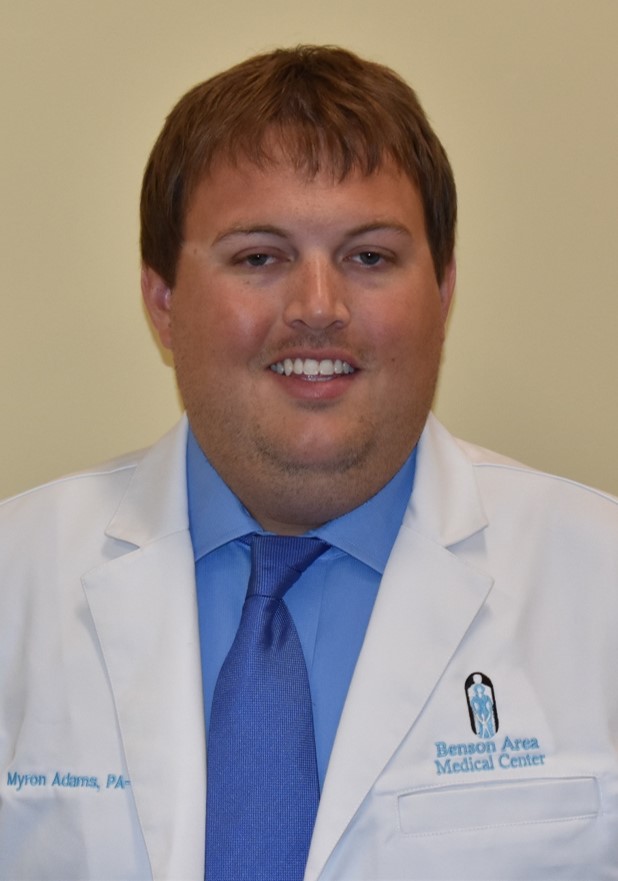 Myron Adams, Physician Assistant
Myron Adams is a lifelong member of this community who graduated from Midway High School. He was drawn to the medical profession out of a desire to participate in expanding healthcare access here in our area. Mr. Adams chose to be part of the BAMC team because of the practice's community involvement and opportunity to participate in a multidisciplinary healthcare team.
He worked as an EMT prior to entering PA school, and serves on a local volunteer fire department, a role he's held since 2013. Spaceflight, American history and natural science are some of his interests. He also enjoys traveling, fishing and serving at his church. He and his wife have a cat named Luna.
Campbell University College of Pharmacy & Health Sciences
Masters of Physician Assistant Practice (MPAP)
Post-Baccalaureate program for Biomedical Studies Certificate at Campbell University Jerry M. Wallace School of Osteopathic Medicine in Buies Creek, NC
Basic Life Support (BLS) Certification
FEMA Incident Command System (ICS) 200 Certification
EMT-Basic Certification
Advanced Cardiovascular Life Support (ACLS) Certification
Pediatric Advanced Life Support (PALS) Certification
Screening, Brief Intervention, and Referral to Treatment (SBIRT) Certification
Myron Adams has taken on a special service to provide acute care for patients whose primary provider's schedule is full. This is a great benefit for our patients and our providers, who genuinely care about the well-being of their patients.
Interests:                                      Family Medicine
                                                          Mental Health
                                              Emergency Medicine
Degree Physician Assistant – Certified