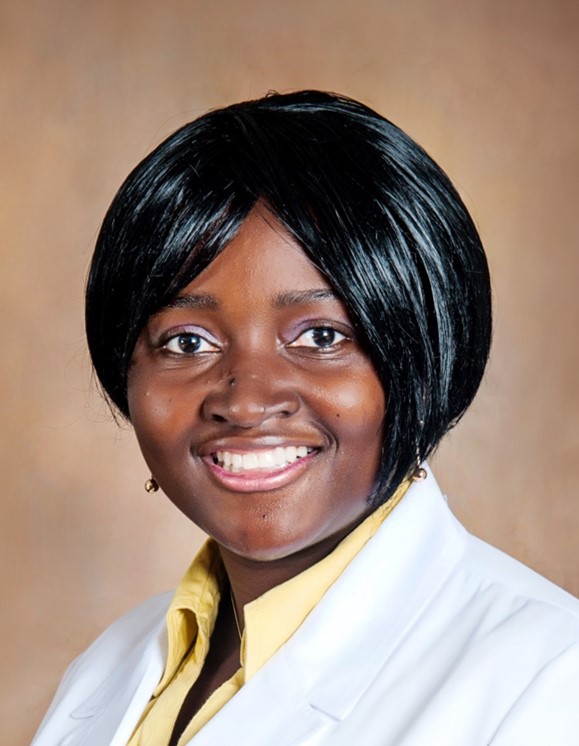 Dr. Amy-Jo Bekong finds joy when she can help provide relief of ailments for her patients so they feel better. Growing up in a small town in Cameroon, West Africa, she witnessed disease and death and would always find herself trying to help and comfort the sick. Dr. Bekong's 6th grade teacher was a great source of inspiration for her and helped her uncover a passion for teaching.
A career in medicine was a perfect fit for her and allowed her to pursue both her dreams of being a care provider and a teacher.
Dr. Bekong has "walked the walk." She started her medical career as a Staff Licensed Practice Nurse working in a nursing home with mostly geriatric patients. From there she transitioned into medical school, a pre-doctoral fellowship, and most recently a residency with Campbell University and Harnett Health. During her residency, she served as clinical faculty with the Campbell University Jerry M. Wallace School of Osteopathic Medicine where she taught third and fourth year medical students on how to apply foundational knowledge to clinical practice and patient care.
A local resident, she enjoys trying new recipes from around the world, traveling to new places and learning about new cultures, gardening, and spending time with her husband and three children. 
Undergraduate Degree – University of Maryland Baltimore County (UMBC) in Baltimore, MD
Medical School – Ohio University Heritage College of Osteopathic Medicine (OH-HCOM) in Athens, OH
Fellowship – Pre-Doctoral Fellowship in Osteopathic Manipulative Medicine at OH-HCOM
Residency – Campbell University/Harnett Health System, Family Medicine, PGY3 in Dunn, NC 
Board Eligible for the American Board of Family Medicine
Interests:                                                  Geriatrics
                                                       Women's Health
                                                   Adolescent Health
Degree:Doctor of Osteopathic Medicine